Overview
Wings Advocacy
 (
Wings
) is a Santa Cruz based non-profit partnering with case managers to support individuals out of homelessness by assisting them with 
requests like a ride to a hospital or a move into a new home.
Time Frame:
 3 months     
Team: 
James Young,
Tangible UX & Wings
 co-founder 
My Main Role:
Product Designer
My Additional Roles:
Project Manager, User Researcher, Content Writer
Tools:
Sketch, InVision, Screenflow
Problem
The requests mentioned in "Overview" take roughly
15+ minutes 
to coordinate. Wings needs a faster system so they can help
more
 individuals out of homelessness.
A multi-user mobile app so requests can be coordinated 
on-the-go in less than a minute
. 
This means more requests can be fulfilled and more individuals can be helped.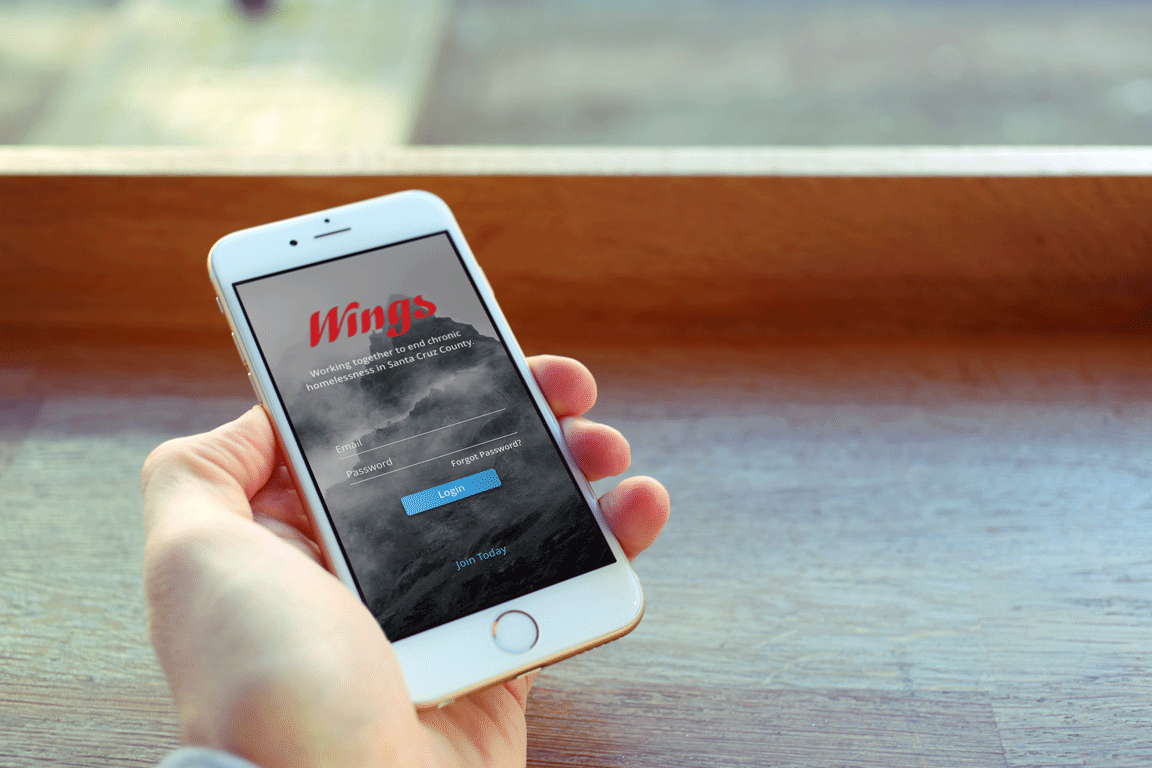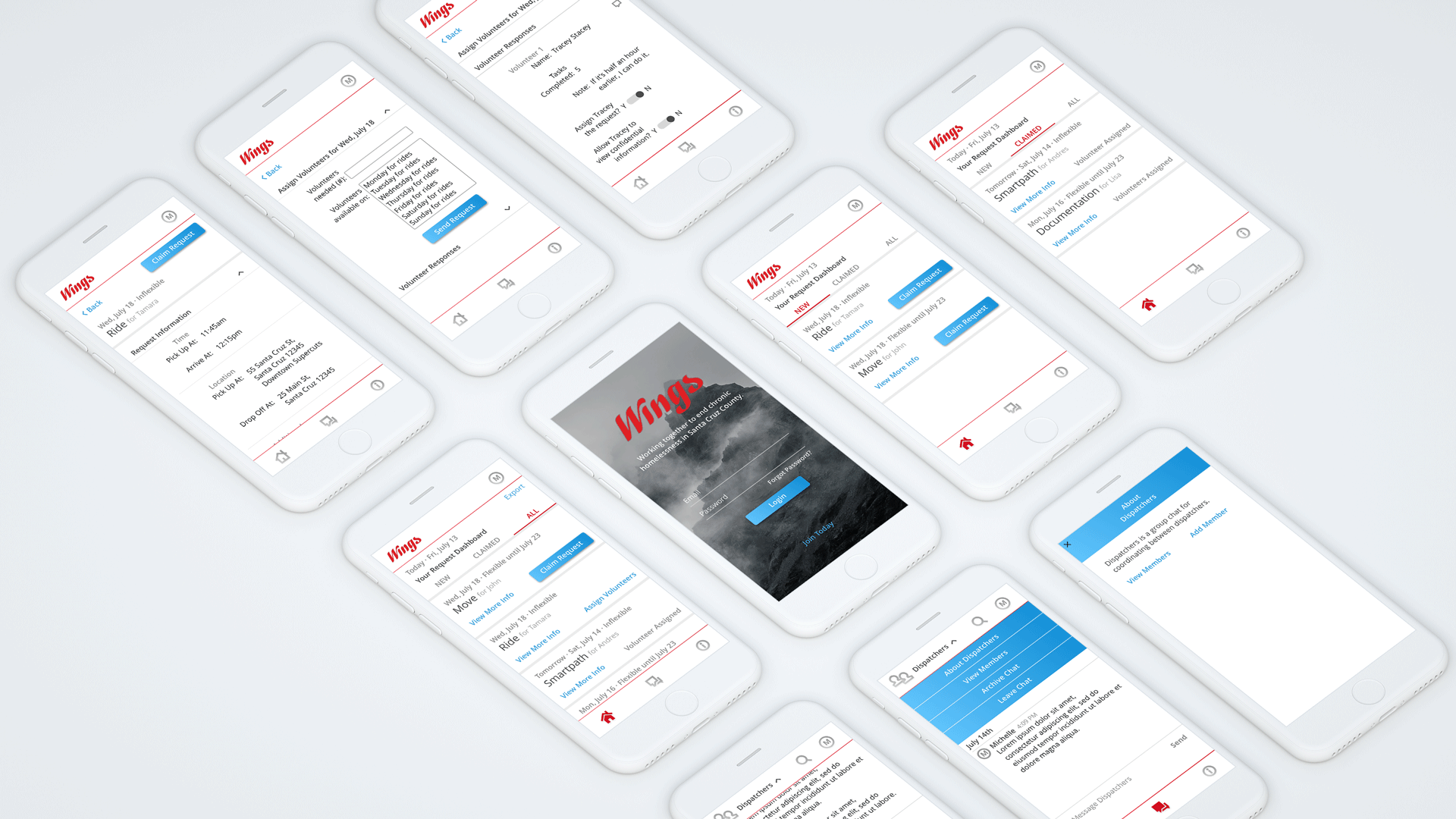 Case managers submit a request to Wings dispatchers asking if a Wings volunteer can assist their clients with a task. Dispatchers reach out to volunteers to determine who can assist with that task. Once a volunteer is available, dispatchers notify the case managers, and the volunteer is connected with the client.
User Research:
I
 remotely and contextually interviewed
13 people
including stakeholders, dispatchers, volunteers and case managers about their attitudes and experiences with the current system.
This helped me gain a deeper understanding of
 the current system along with user pain points and needs in order to define a problem and project scope.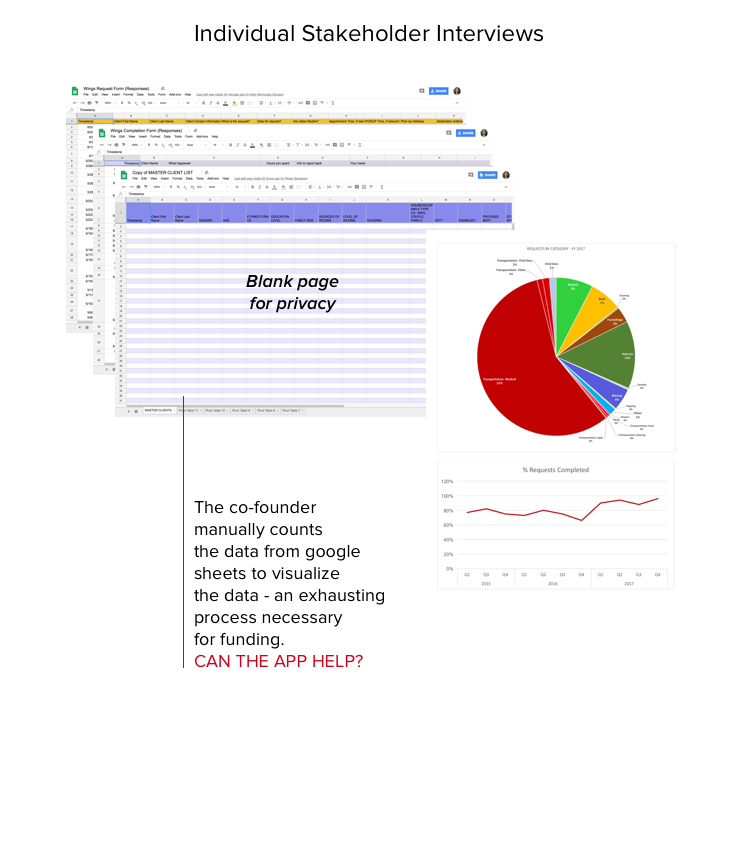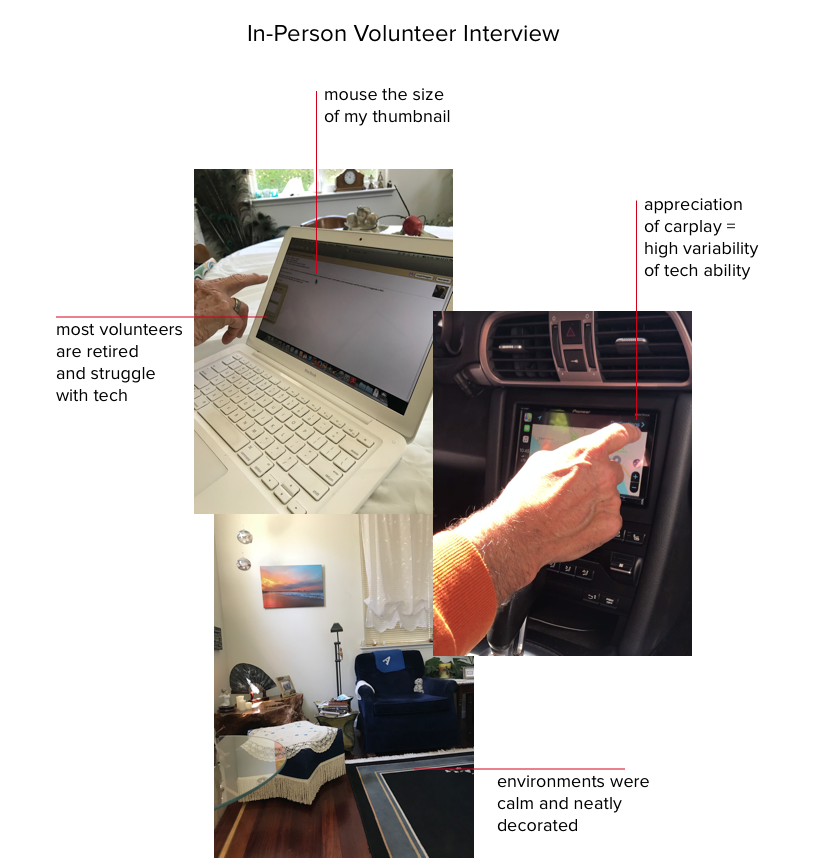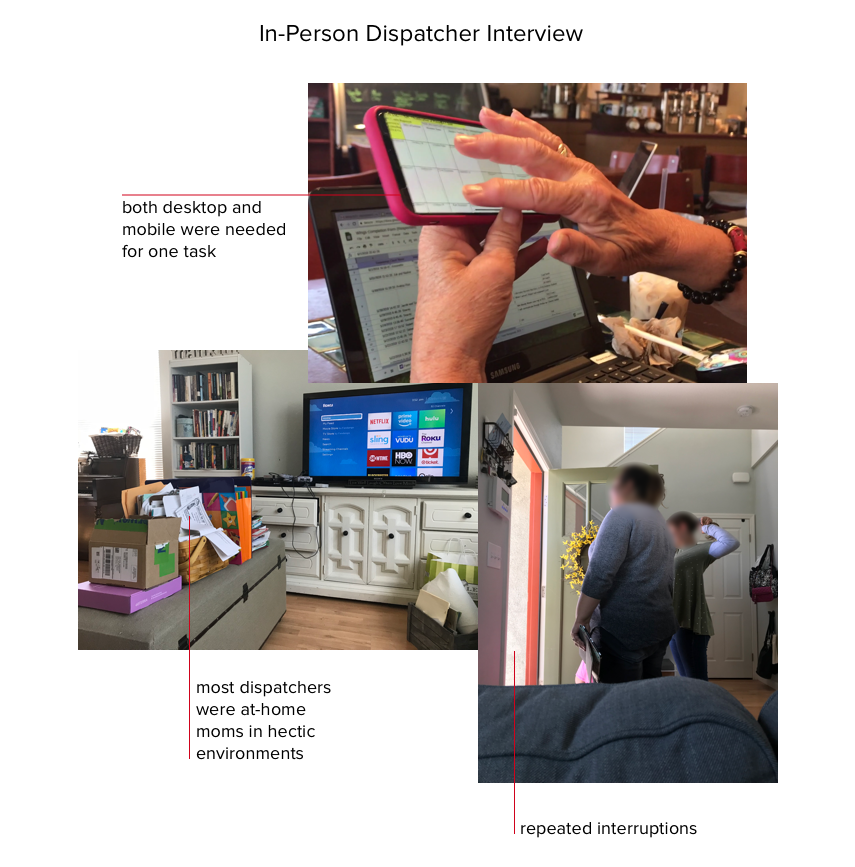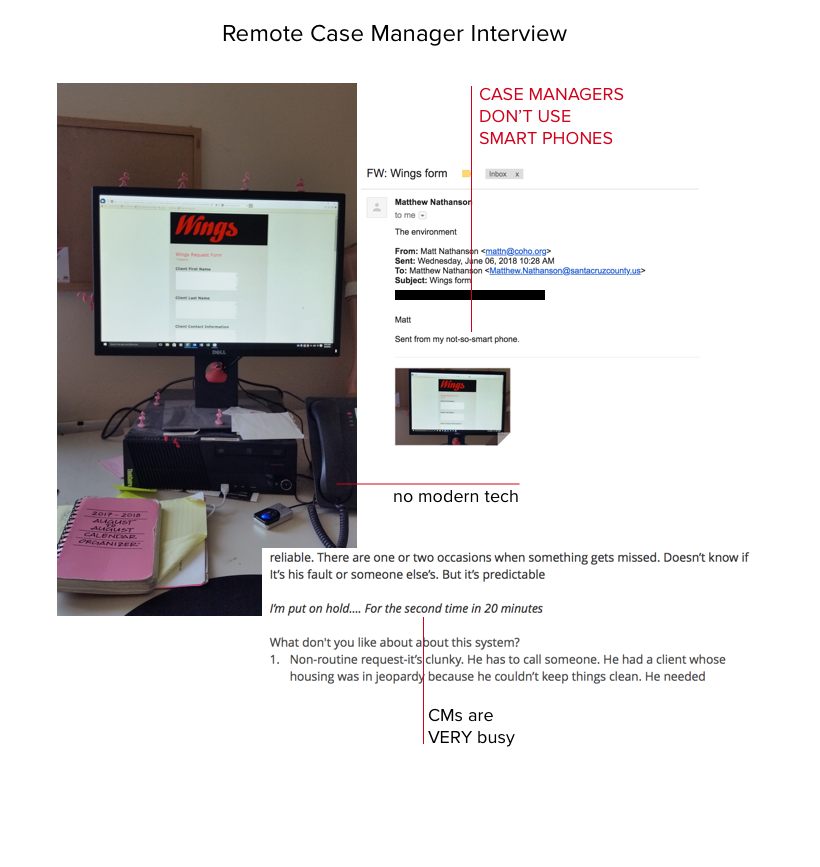 Empathy Maps: 
I used empathy maps to identify behavioral, cognitive and emotional patterns in the dispatchers, volunteers and case managers. These patterns would influence the ideation process.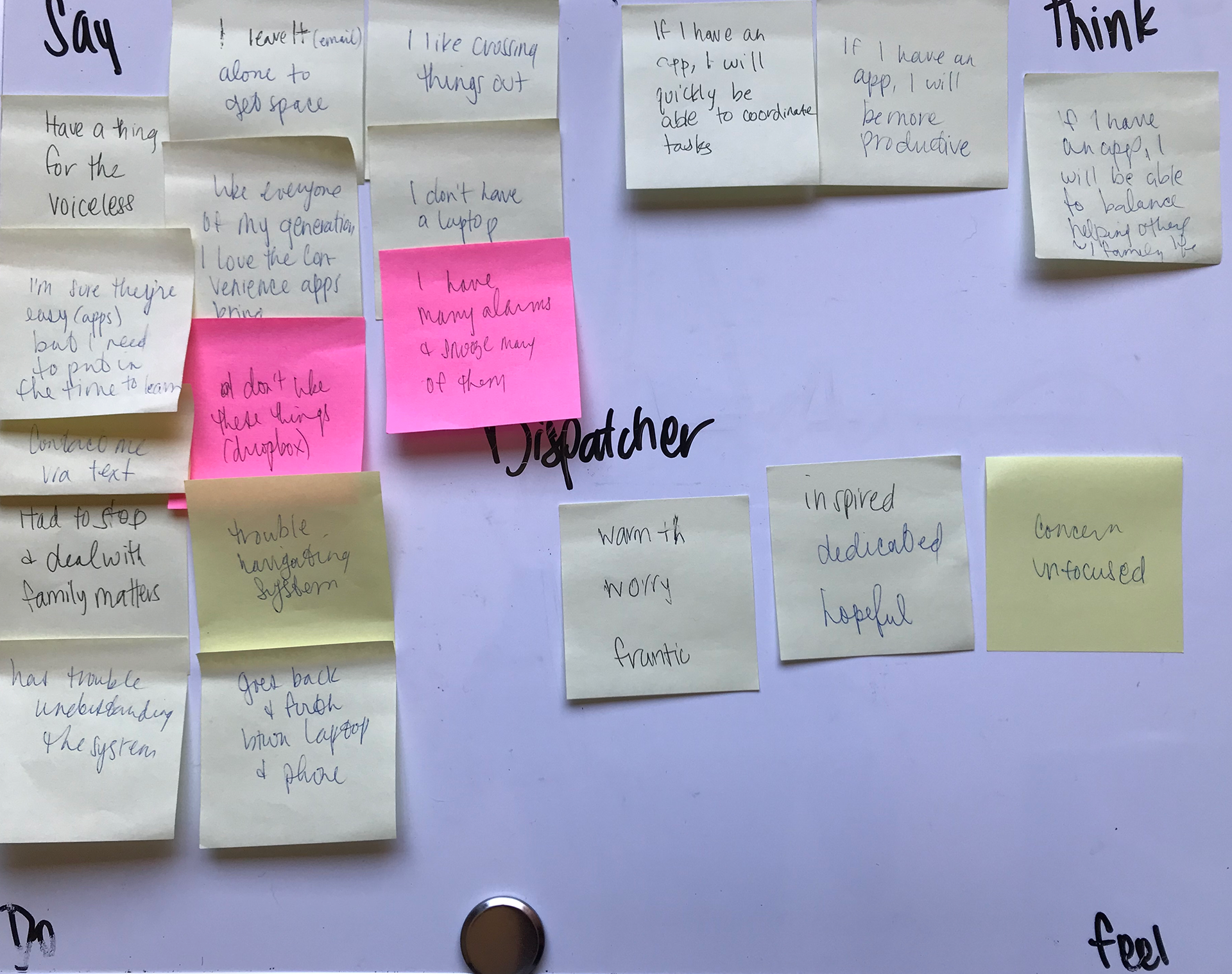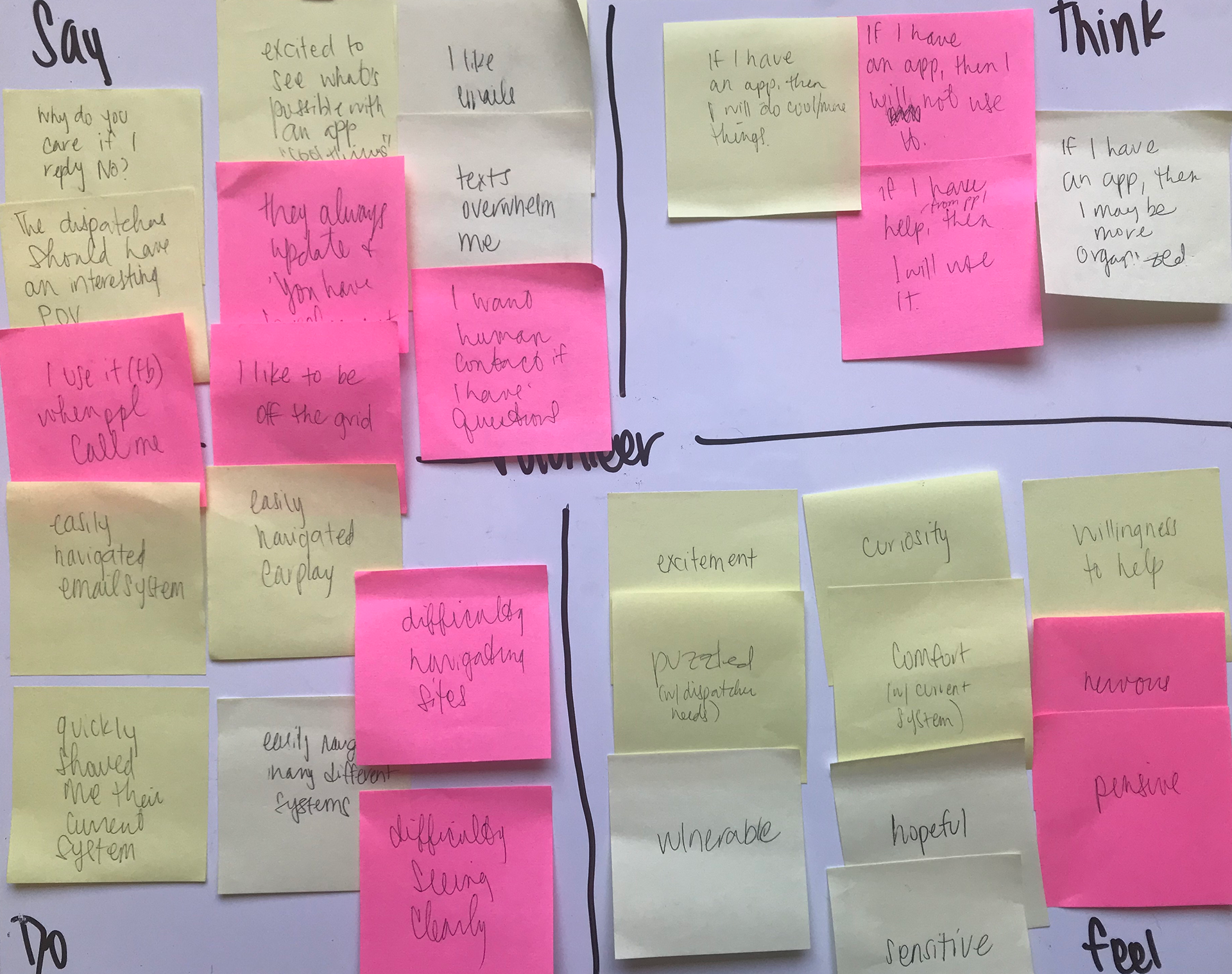 Personas and Scenarios:
 To remind myself of the users' needs, frustrations and patterns, I created personas and scenarios for the dispatchers (Emily), volunteers (Joe) and case managers (Max).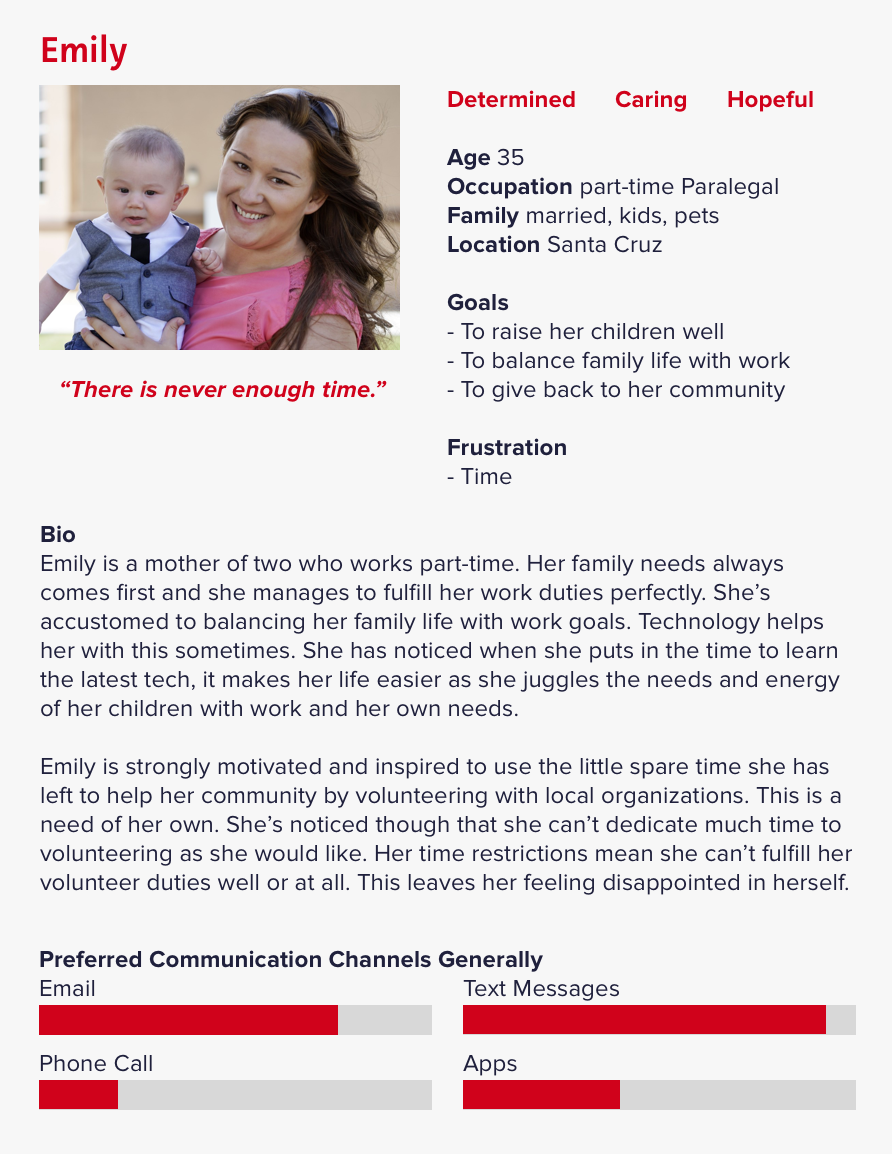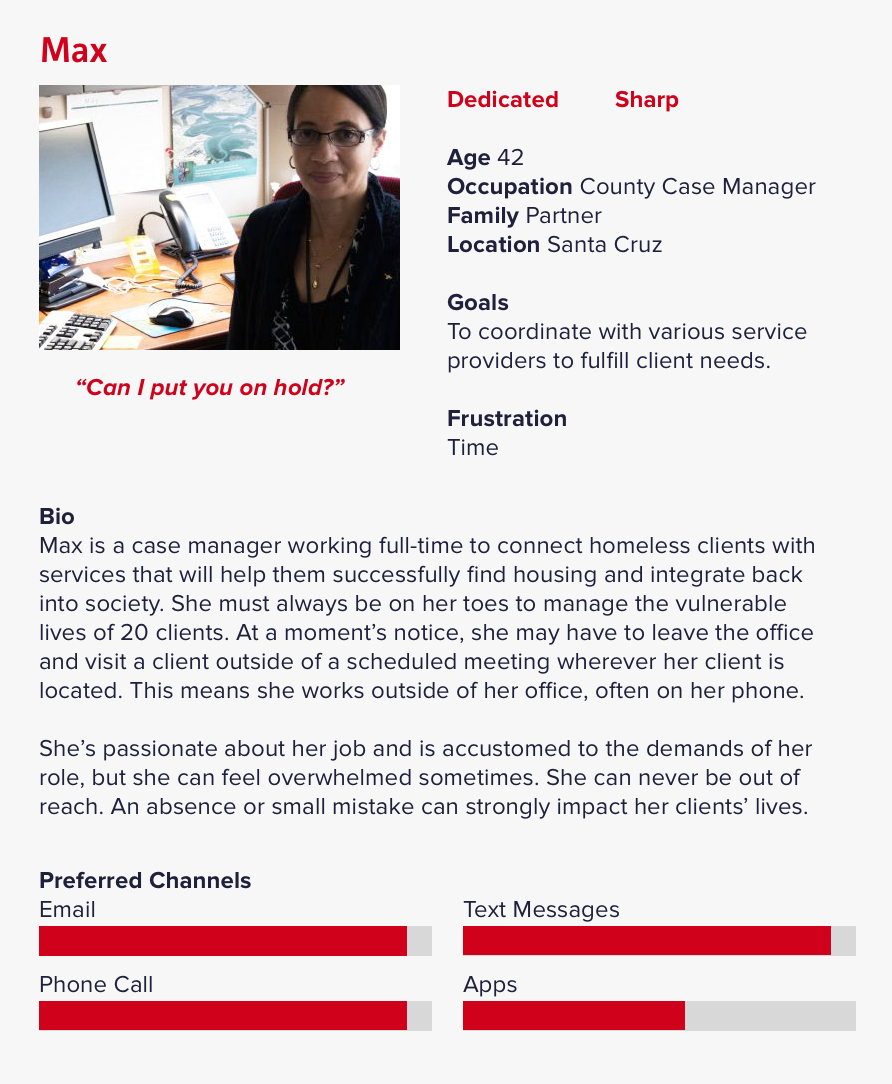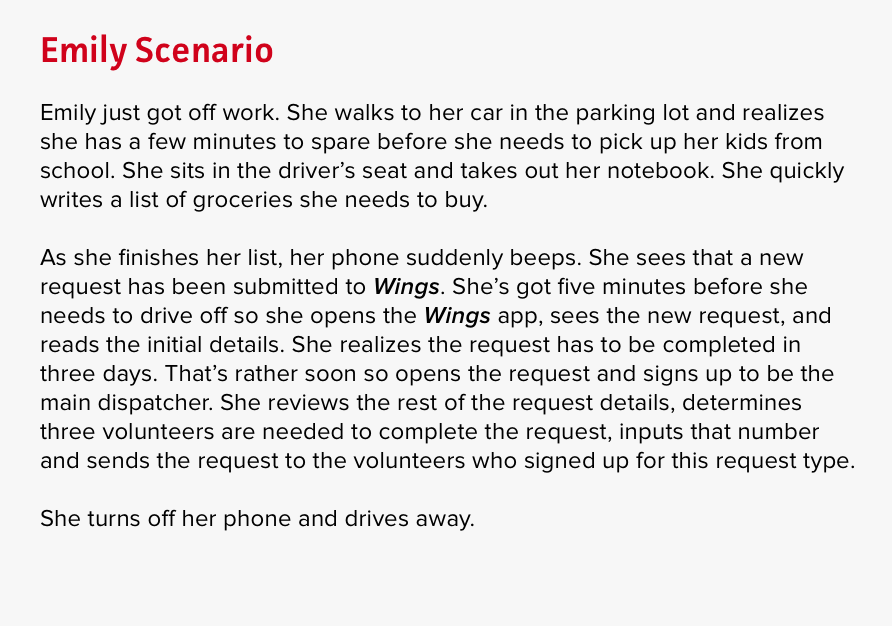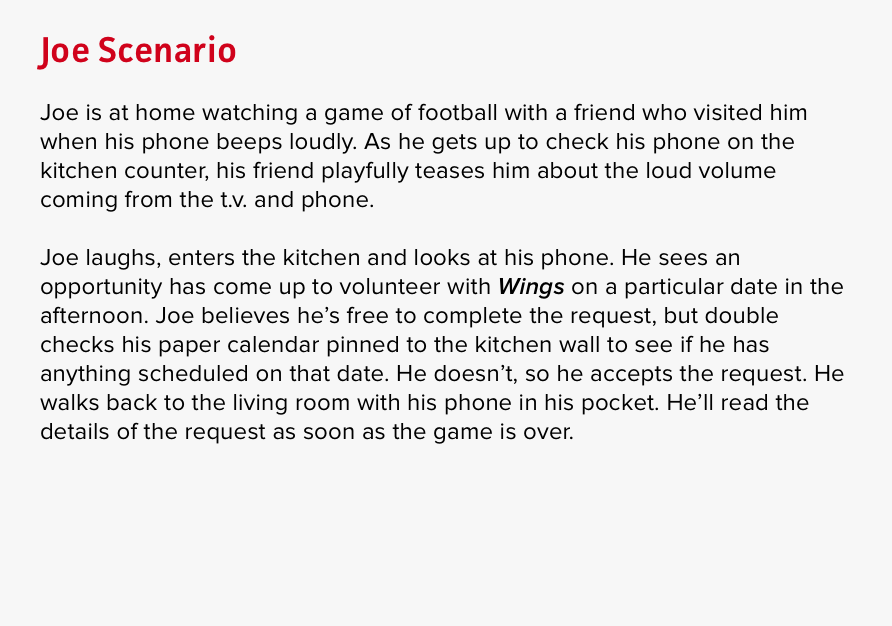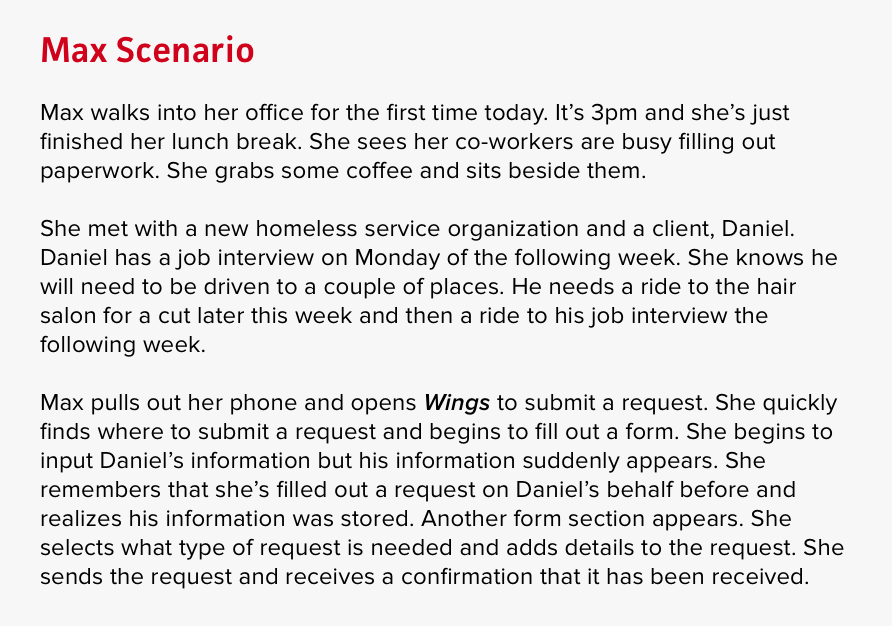 Task Flows:
 What do the dispatcher, volunteer, and case manager actions revolving a request look like? I created flows for Emily (dispatcher), Joe (volunteer) and Max (case manager) that reflected the actions they needed to take to fulfill a case manager request.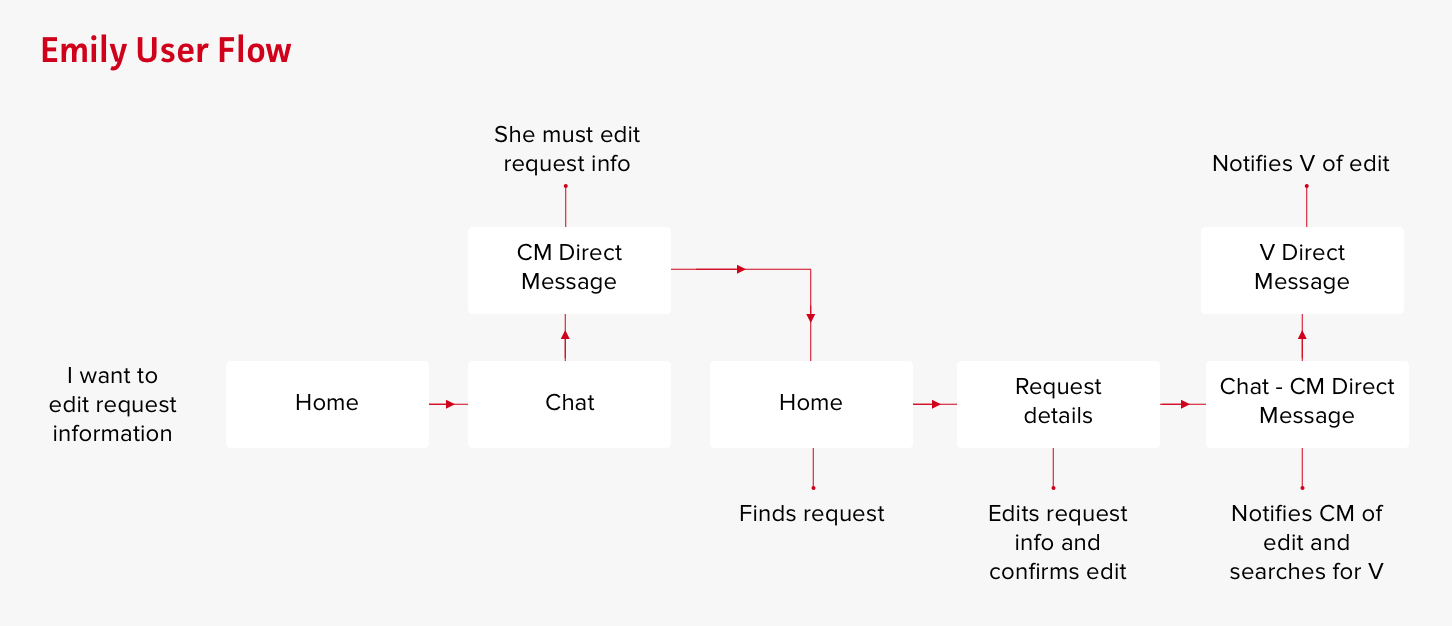 Hypothesis:
Inspired by the flows, I formed an objective to steer my design: all users' actions revolve around the case managers' requests. Everyone needs to overview the request information to direct their actions and communicate with one another in case a change occurs.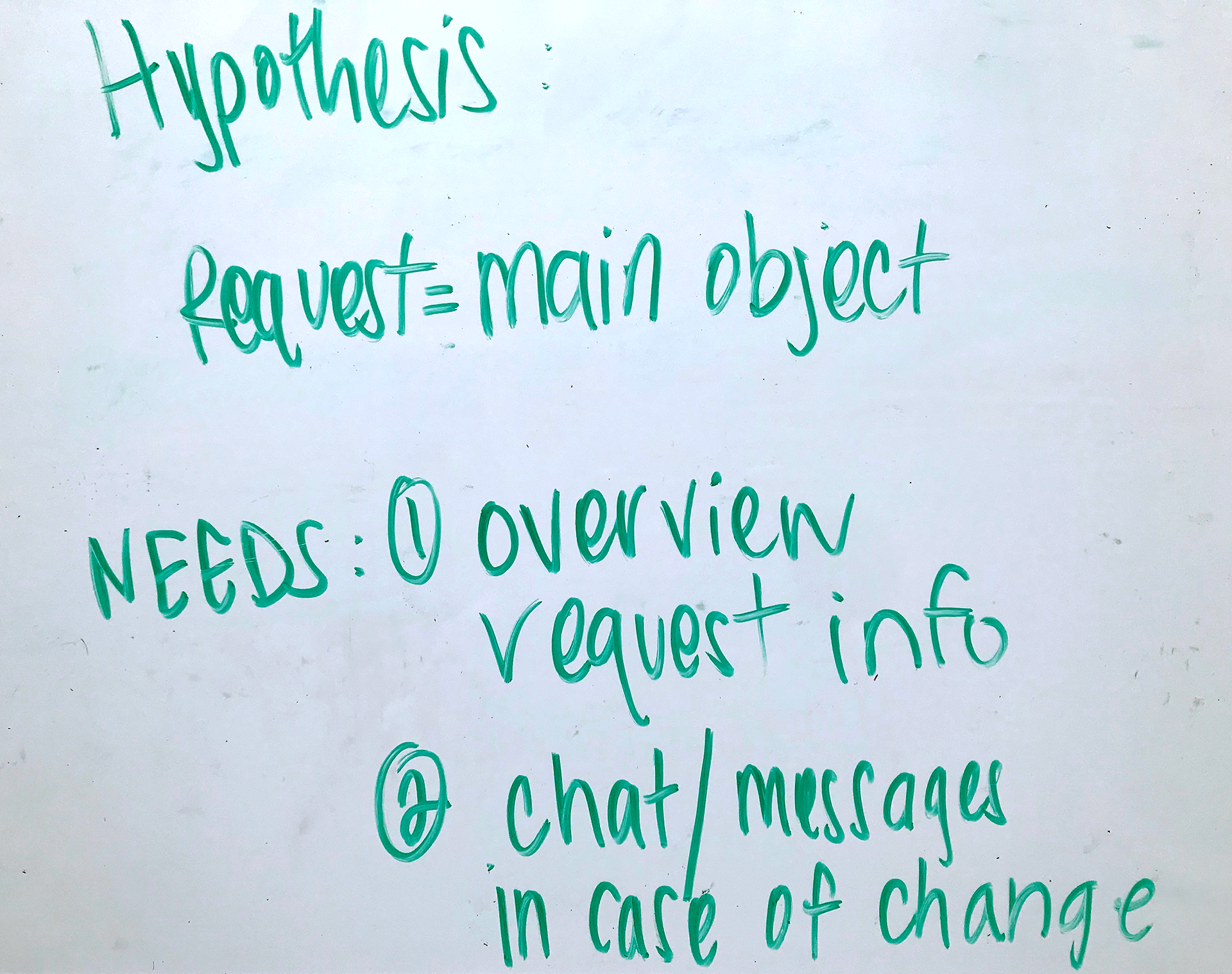 Ideation:
 With so many ideas to solve this problem, I wrote and sketched wireframes to identify which ideas were the strongest.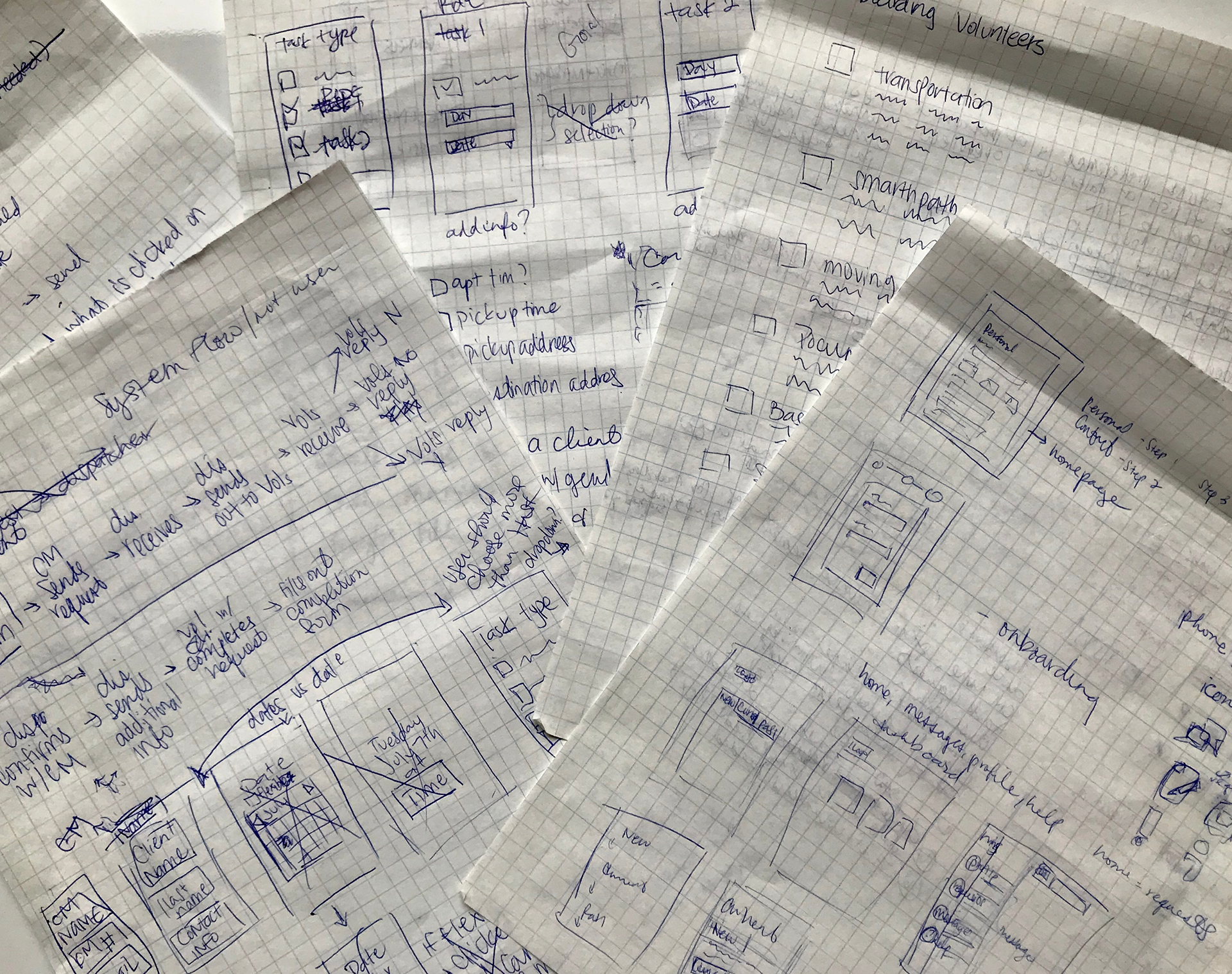 Wireframes:
I drew wireframes in Sketch to understand what my paper sketches would look like on mobile. Below is an example of the varied interfaces for the case managers, dispatchers and volunteers when they have to overview the request information.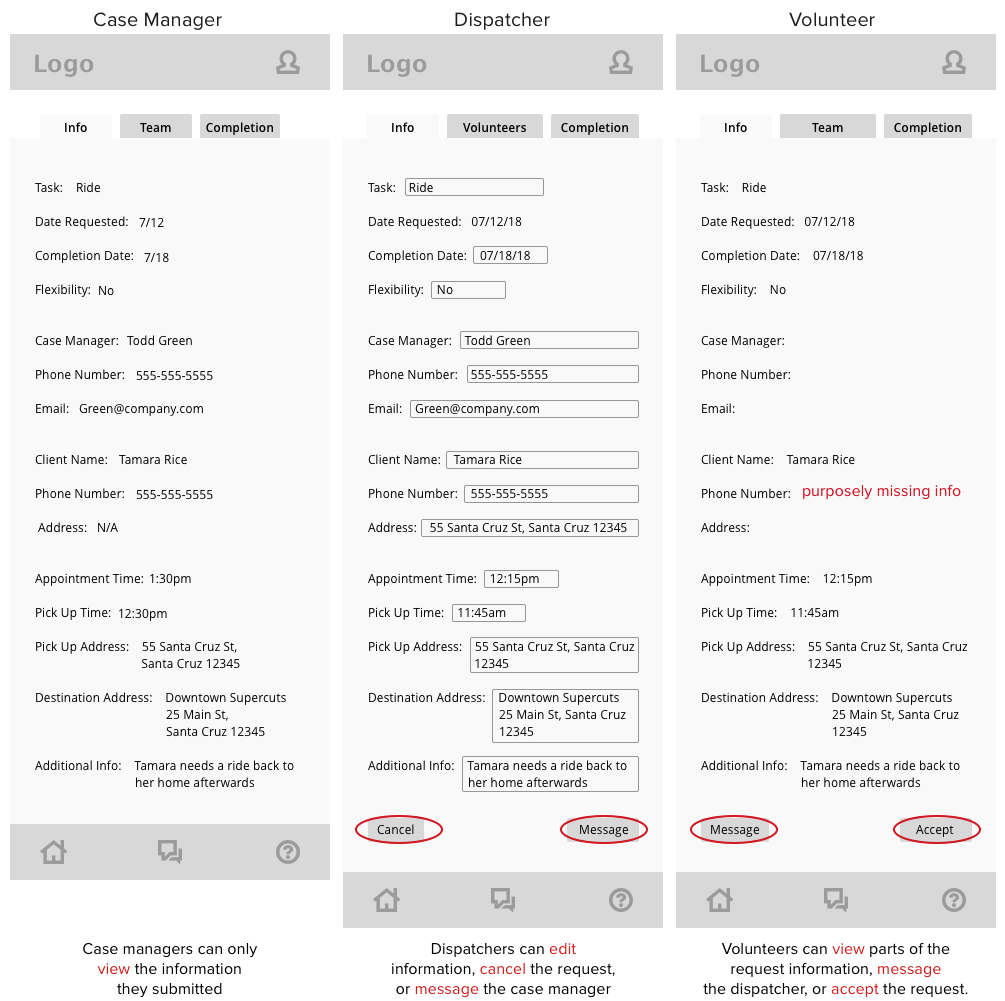 Prototype:
I had a core solution to the problem and needed to test it, so I created 3 InVision prototypes for the case managers, dispatchers and volunteers. Here is an example of the dispatcher prototype from which the volunteer and case manager prototypes stem.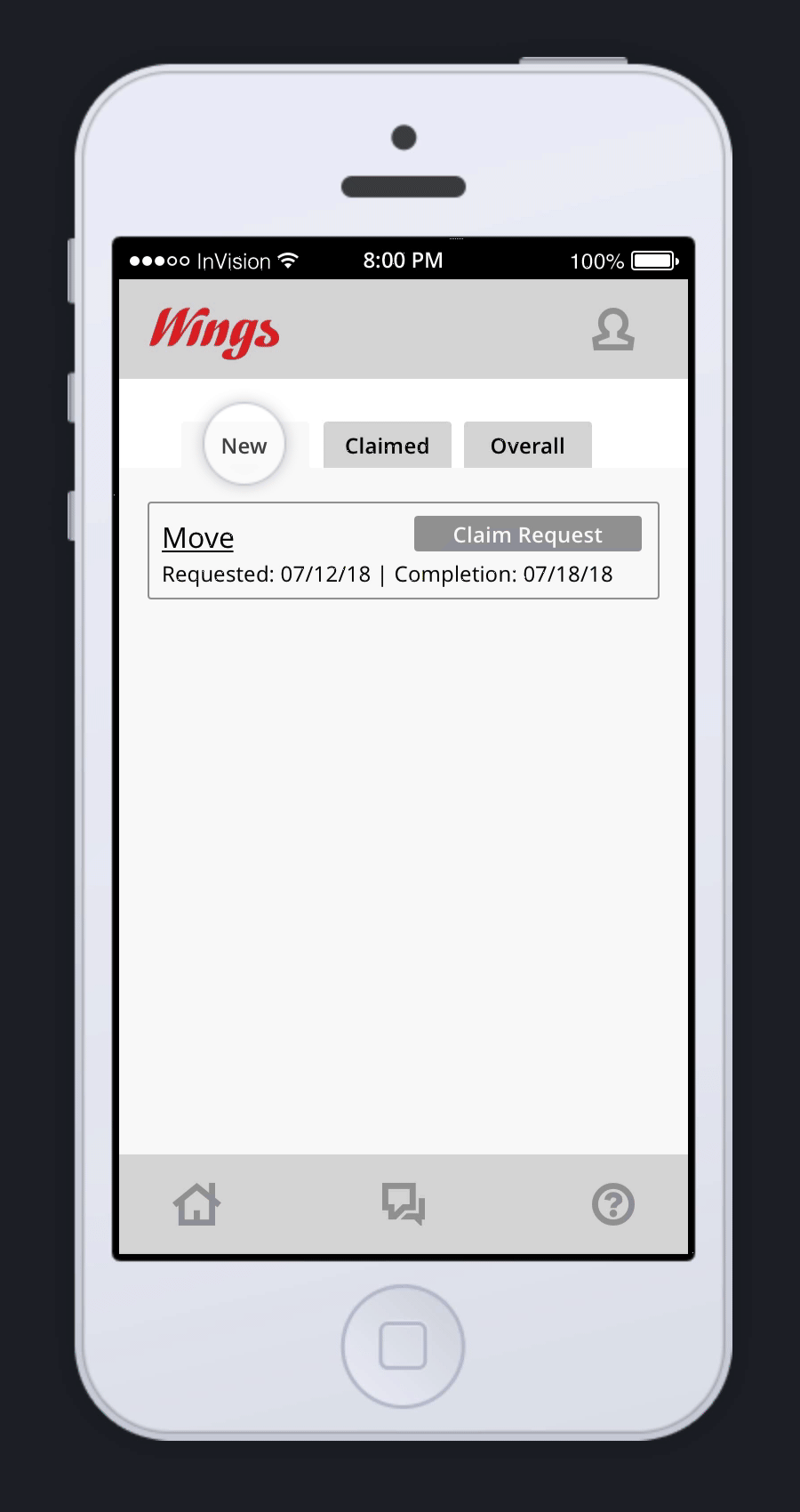 User Testing:
Is my design headed in the right direction? Which ideas are working and which aren't? I drove down to Santa Cruz again to find out the answers to my questions.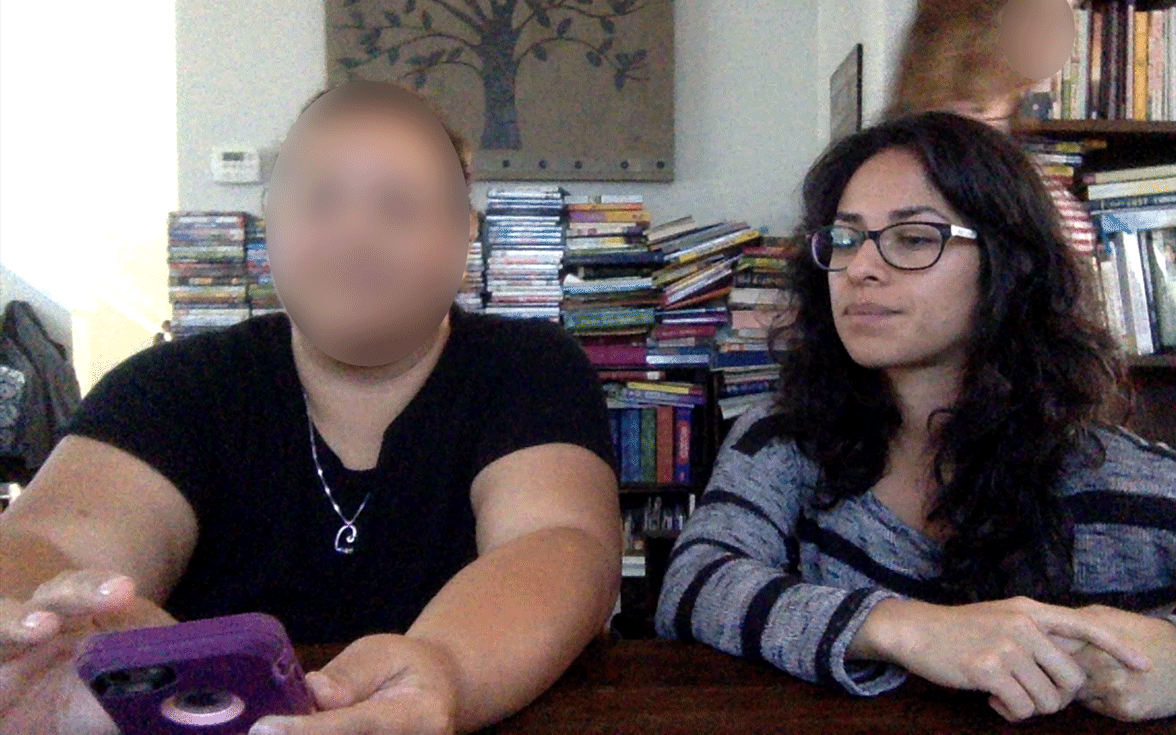 Affinity Map:
I synthesized and categorized my findings to identify what changes needed to be made to the core solution.
Prototype Iteration:
I applied the changes to the prototypes and added visual design. These will be tested once again. Below is an example of the dispatcher prototype iteration.
Learnings
• User research proved incredibly insightful in designing a multi-user app from end-to-end.
• More context in user testing helps prevent confusion.
• Lean ux approach was optimal to test important user tasks faster and without distractions.
"I think that at least from a dispatcher perspective it makes my job like 15 times faster, easier… I love it. It allows me to do more and to take on more tasks without hesitation… awesome sauce." 
- Kelly,
Wings Advocacy
 dispatcher